Arianne Clark – Director of Safety, Health and Fitness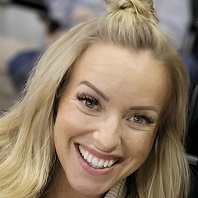 Arianne Clark is a certified emergency medical technician and healthy lifestyle coach who works with cheerleaders and dancers by providing instruction and support on proper physical strengthening protocols, developing individualized nutrition plans for athletes, supporting cardio-vascular fitness, attending to injuries and overseeing athlete rehabilitation.
Arianne believes that in order for an athlete to realize his/her potential, proper preparation, physically, mentally and emotionally is necessary and she is committed to providing support to maximize each athlete potential.
Arianne has more than 15 years of coaching experience with all-star programs and at the high school level in Washington and Colorado demonstrating success at all levels. Arianne has worked with Spirit Xpress West for more than 10 years and is an integral part of the success of the company.
Arianne is a U.S. Army Combat Medic having served two tours in Afghanistan both in forward combat operations as well as serving as the personal medic to a three-star general. While assigned to forward operations, Arianne provided medical training to the Afghan National Army as part of the U.S. Army Train-Advise-Assist program. Arianne has earned certifications as an Emergency Medical Technician (AEMT), Basic Life Support (BLS), CPR, Advanced Cardiac Life Support (ACLS), Pediatric Advanced Life Support (PALS), Combat Lifesaver (CLS), Pegasus First Responder (PFR), and Hazardous Materials, has earned the prestigious Expert Field Medical Badge (EFMB) and is a CLS and PFR Master Instructor. She is also a CrossFit Level 1 Trainer, a member of the Sports Management and Health Sciences Honor Society, and the National Strength and Conditioning Association. Arianne is an avid runner, and enjoys spending time with her daughter Aria, her husband Corbin and their canine buddy Rocket.