Patty Aguilar – Owner/Executive Director, Spirit Xpress West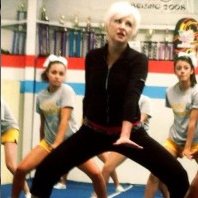 Patty Aguilar is the founder and executive director of Spirit Xpress West. Patty is known as a passionate, caring and effective teacher, coach and mentor. As an alumnus of the College of New Jersey and the University of New Mexico and after a 25-year career as an exemplary high school and elementary school teacher, Patty founded Spirit Xpress West to provide effective-high level cheer and dance services focused on preparing students to be champions both in competition and in life. At Spirit Xpress West, Patty drives the organization's strategic growth, creative development, partnership development and oversees its creative, talented and passionate staff.
A leader and voice for cheerleading in New Mexico and across the country, Patty was part of a core group of spirit coaches who led the charge to ensure school administrators, athletic director's, coaches, parents and students recognized their programs as athletic programs and demanded equal practice time, equal facilities, equal pay and equal expectations for their student athletes. These efforts led to a tradition of success at Bernalillo High School, a tradition that produced teams that achieved 17 state, regional and national championships over 16 years. Patty recognizes that dedication to the profession is vital in continuing to improve opportunities for coaches and students. She works closely with a number of young coaches acting as a mentor as they work to improve opportunities for their teams. Patty is known nationally and internationally as a panel and technical judge, and as an expert on cheer safety and choreography. She has choreographed championship cheer and dance routines throughout the United States, and as far away as Australia and recently Spirit Xpress West staff under her direction choreographed routines for a movie filmed in Albuquerque.
Over a spirit career that spans 35 years, Patty, in addition to her coaching responsibilities has been involved in leadership positions with the National Federation of State High School Associations; including serving on the first Spirit Rules Board and the Sportsmanship Board, and with the New Mexico Activities Association Spirit Board for 22 years. Recognizing a lifetime of commitment to the spirit profession, in 1995, Patty received the New Mexico Activities Association Spirit Lifetime Achievement Award, and in 1996, she was honored as the first ever recipient of the National Federation Spirit Coach of the year award and was named the New Mexico Educator of the Year. Patty was awarded the 2018 NMAA "Legend of Spirit" at the 2018 State Spirit Competition. Patty has a current teaching and coaching license from the NM Public Education Department.

In spite of a grueling travel schedule, Patty looks forward to returning to her home in Bernalillo where she lives with her loving husband Paul and her Jack Russell Charlie or visiting her son, Andrew, who lives in California and works as a film director. "There is no place like home"