Catherine Amundsen- Production Materials Specialist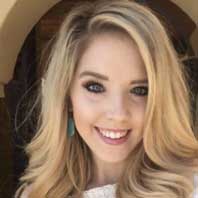 Catherine Amundsen is a NMAA certified cheerleading coach and certified educator in South East New Mexico. Catherine works with cheerleaders and students to help them realize their full potential on and off the mat. As a cheerleader herself for eight years, Catherine's love for the sport only grew when she became a Middle School Cheerleading coach and instructor for Spirit Xpress West. Catherine is starting her 4th year as part of the SXW family and has delivered top of the line instruction all over New Mexico and Colorado.
Originally from Norway, Catherine moved to New Mexico where she fell head over heels for learning. In high school, Catherine was a 4.5 GPA student, athlete, and leader on campus. After high school, Catherine Graduated from The University of New Mexico in 2018 with her Bachelors and Graduated from Grand Canyon University in 2022 with a Master's Degree in Educational Administration. Catherine was a Kindergarten teacher for 5 years and is now a High School English teacher with hopes of being an administrator in the future.
Despite her love for educating, she knew something was missing. In 2018 she fulfilled her dream of becoming a cheerleading coach, and the rest is history. With 6 years of coaching experience, Catherine and her twin sister, Olivia Amundsen have taken the cheerleading world by storm winning countless awards, achievements, and 1st place trophies. Most importantly, they have made an impact on their community and athletes, and that will stay with them for the rest of their lives.
Cheerleading has provided countless opportunities for Catherine. Catherine traveled to New York City to be an instructor on behalf of Spirit Xpress West and Spirit of America Productions, with choreographer Dahlston Delgado of Navarro. Catherine and her fellow instructors were responsible for 100s of cheerleaders in New York as they made memories to last a lifetime. Catherine herself, was a cheerleader in the Macy's Thanksgiving Parade and on the float with Miss America in 2021.
In college, Catherine was the student ambassador for the "Be Kind UNM" movement. In 2020, Catherine and her sister Olivia decided to bring that movement to their own campus communities and founded the "Be Kind Cats" Organization. Be Kind Cats produces videos, kindness challenges, and provides all of their district teachers with kindness baskets or goodies. Catherine believes that kindness and positivity is the best medicine and seeks to implement kind actions wherever possible.
Teaching, Cheerleading, and acts of service have been incredibly influential in Catherine's life and she can't wait to take her knowledge and experience to new heights with SXW.